Know best UP PCS IAS Exam Strategy for Selection 2021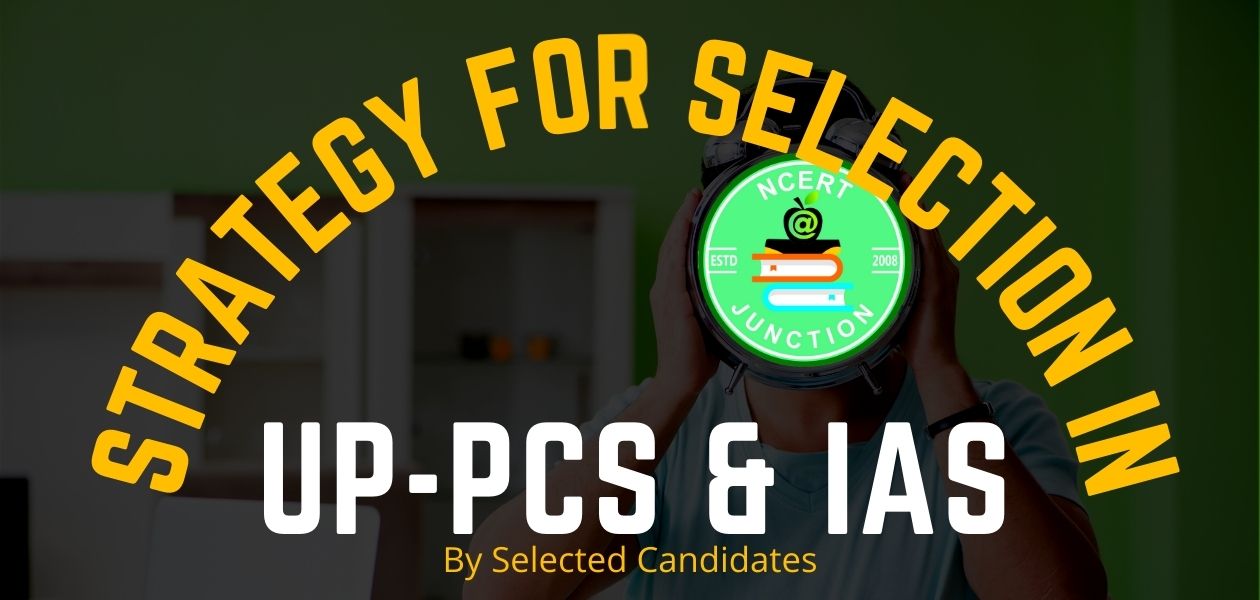 UP PCS IAS Exam Strategy for Selection By Avinash Yadav
Avinash Yadav
Rank 24
SDM
UP PCS 2019
Optional: Mech Engg
Medium: English
My Books List and Strategy:
1. History: Modern- Spectrum ( Multiple Times)
Medieval- NCERT
Ancient – NCERT
( Ancient and Medieval ..I also referred from Lucent GK)
2. Geo : NCERT 11th and 12th+ Periyar
3. Polity: Laxmikanth( Must)
4. Env : Shankar IAS/ Vani Boxes Only
5. Science: Lucent GK
6. UP Special- Vani
7. Economy: Sriram IAS notes
Sanjeev Verma
8. Special Mention: Lucent GK must read .( English Edition)
9. PYQ : Any solved paper. 5-6 Times. For pre and mains both.
10. Current Affairs:Newspaper koi bi daily 1 hr max… make notes of imp points.
Koi bi 2 monthly magzines
( Most Imp phase bcz ye niklega tabi mains likhoge….so jo log 2-3 attempt se border pe rhte h 2-3 months jarur de)
Know best UP PCS IAS Exam Strategy for Selection 2021
1. PYQs are must.
2. Practice any test series Multiple times.
3. Use Single Source multiple times…
4. Short notes must for each subject… include only those things which r very imp and points u r forgetting always.
So it may vary from person to person.
So make ur own.. don't rely on others.
Mains :
Know best UP PCS IAS Exam Strategy for Selection 2021
1. Make ur own handwritten notes of each topic from syllabus…u must have something to write on all topics.
2. Ans writing Practice is must… daily write 2-3 ans within 10-12 min for each Ques..
slowly try to write in 8 min.
3. Appear full test series within time. (Most Imp)
(Soon give Details strategy)
Interview:
Just focus on current affairs and basics of all subjects.
Know best UP PCS IAS Exam Strategy for Selection 2021
Chhoti magar Moti Baate:
1. Being a working person..I hardly get 4-5 hrs daily..and this is my first serious attempt…
so I tried to use minimum sources. PhD nai ki kisi bi subject ya topic pe.
Aap log bi apne source pe trust kro and try to retain n revise things as much as u can.
2. Notes ke liye idhar udhar na bhage apne hath se notes banaye
3. First tim notes jo banate h wo book ki Xerox hoti h
..usse Mini ya Micro pe aao.( Must)
4. U have to do things urself…spoon feeding koi nai kr sakta…they can guide u upto some extent.
5. Keep practicing…keep revising.
( Nov 2019 me jab prep start ki Mai bi face krta tha same problems..bas lgta tha koi Topper success ka Mantra bata de aur mai SDM bn jau
.
But slowly I worked myself on my problems…khud se sol nikala because meri jo prob h wo mujhe pata h and sabki prob diff hoti h…so apni strength aur weakness ko pahchano aur apni prob ka sol khud se nikalo.)
Continuity+ Practice+ Multiple Revisions+ Trust urself + Remember ur Parents/ Family whenever u feel low
(5 Mantras of success)
Thanku u … Rest mains details strategy Next time.
Know best UP PCS IAS Exam Strategy for Selection 2021