CLASS 12 CONTEMPORARY WORLD POLITICS
COURSE DESCRIPTION
Dear Students, This course is designed for Class 12th students. But it is very important for those students who want preparation for civil services. Contemporary World Politics for class 12th, provides a wide range of concepts and advanced information regarding the Political developments in the world. The concepts given in this book are even more important for Civil Aspirants, Students of graduation, law students and government job's aspirants.
In Class 11th, you have studied about the Constitution and many concepts of political science. Now After 11th, You will study about the Political developments in world and India also after 1945. In This book "Contemporary World Politics for Class 12th",  you will study in detail about the:
Cold War Era, Concept of bipolarity, NAM, US Hegemony, Alternative Centres of Power, Contemporary South Asia in the Post-Cold War Era, International Organizations, concerns of security, Environment movements and Natural Resources, and Globalization etc.
OBJECTIVES:
Enable the students to expand their horizons beyond India and make sense of the political map of contemporary world.
Familiarise the students with some of the key political events and processes in the post cold war era.
Equip students to be conscious of the way in which global events and processes shape our everyday lives.
Strengthen their capacity for political analysis by thinking of contemporary developments in a historical perspective.
Understanding of some basic constitutional and political concepts through which we will be more aware about politics of India and the working of Government.
SALIENT FEATURES OF COURSE:
CONTEMPORARY WORLD POLITICS FOR CLASS 12th has many features like-
Each Topic has been written and explained in accordance with the latest guideline issued by CBSE.
The Concepts have been systematically explained through the use of Diagrams, tables, and examples.
HOTS Questions with answers have been given at the end of each chapter to enhance the student's understanding, analytical ability, and interpretation.
A Quiz of Multiple Choices Questions (MCQ) with answers has been given at the end of Lecture.
Questions of NCERT TEXTBOOK also discussed with explanations.
VALUE-BASED Questions with answers have been given in the revision section.
Practical Problems have been a weightage of 20 marks in the examination. To have a Complete edge, a large number of comprehensive solved and unsolved practical problems have been discussed in our lectures.
Power Booster Section has been provided for the knowledge enrichment of the students.
This course consist also revision section.
To join Crash Course: Click Here
Download Free NCERT for Political Science Part 1 Notebook: CLASS 12 CONTEMPORARY WORLD POLITICS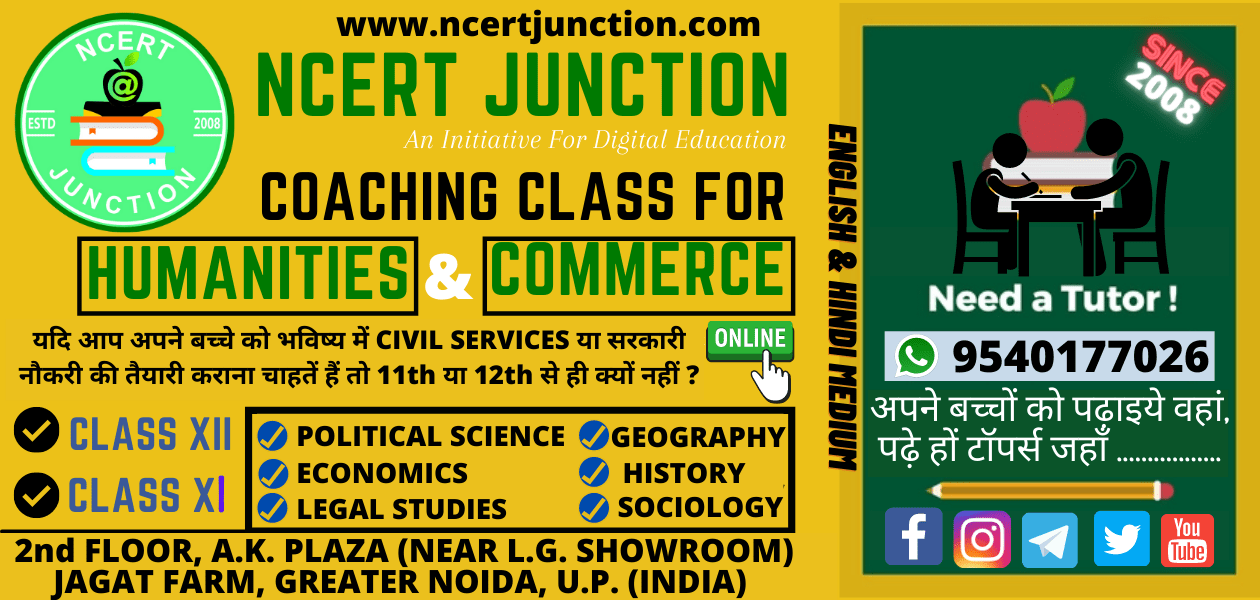 CBSE Syllabus Class 12 Political Science (2022-23)
POLITICAL SCIENCE (028)
Class XII (2022-23)
Total Weightage: 100 Marks (Theory 80 + Project Work 20)
A. Theory; Max Marks: 80                                                                                                                             Time: 3 hrs.
Part A: Contemporary World Politics
Unit
Contents
Marks
1
The End of Bipolarity
08
2
New Centres of Power
12
3
Contemporary South Asia
4
United Nations and its Organizations
10
5
Security in Contemporary World
6
Environment and Natural Resources
10
7
Globalization
Total
40
B. Project Work: 20 Marks
Details of Project Work
Out of 20 marks, 10 marks are to be allotted to viva voce and 10 marks for project work.
For class XII, the evaluation for 20 marks project work should be done jointly by the internal as well as the
external examiners.
The project can be individual/pair/group of 4-5 each. The Project can be made on the topics given in
the syllabus of a particular class.
The suggestive list of activities for project work is as follows: –
Role Play, Skit, Presentation, Model, Field Survey, Mock Drills/Mock Event etc.
The topics for Project Work taken up by the student must be discussed by the teacher in classroom.
To join Crash Course: Click Here
NCERT 12th POLITICS IN INDIA SINCE INDEPENDENCE CBSE book: Free Download
NCERT 12th CONTEMPORARY WORLD POLITICS Textbook: Free Download
NCERT 12th SAMKALIN VISHWA RAJNITI Textbook: Free Download
NCERT 12th SWATANTRA BHARAT MEIN RAJNITI CBSE book: Free Download
---
⇒⇒⇒⇒⇒ Follow us: ⇒⇒⇒⇒⇒
♥ Facebook: – https://www.facebook.com/ncertjunction/
♥ Skype: – https://join.skype.com/Y0n7PswqY6Q7
♥ Zoom: – https://us04web.zoom.us/j/2084819455?fbclid=IwAR2NrIvKhl2kS2XovRm1VxCiqQ-_h4yO3rplh2ya1icKAaXIWm16TNhhBb4#success
♥ Twitter: – https://twitter.com/Ncertj
♥ Linkedin: – https://www.linkedin.com/in/ncert-junction/
♥ Telegram: – https://t.me/NcertJunction
♥ Pinterest: – https://in.pinterest.com/junction0696/boards/
♥ Website NCERT JUNCTION: – http://ncertjunction.com
♥ Instagram: – https://www.instagram.com/ncertjunction/
♥ Youtube: – https://www.youtube.com/channel/UCzL2Gfk8bnHmkCe358gcAQg?view_as=subscriber
♥ WhatsApp पर +91 95401 77026 से चैट करें : https://api.whatsapp.com/send?phone=919540177026&text=I%27m%20interested%20in%20your%20course%20for%20sale&source=&data=&app_absent
Call for Online/Offline tuitions for humanities and commerce: 9540177026
Since 2008, We NCERT JUNCTION providing Best offline Coaching Classes for Pol Science in Greater Noida. Now we are serving Online Tuition For Humanities Class 12 & 11th in very interactive way. Political Science For Class 12th has two books. One is related to world politics after 2nd world war and second is related to political development in India after independence. We have proved many times that NCERT JUNCTION is the best coaching for humanities or art for class 12th.
For registration please fill the form: Fix Demo