INDIAN CONSTITUTION AT WORK FOR CLASS 11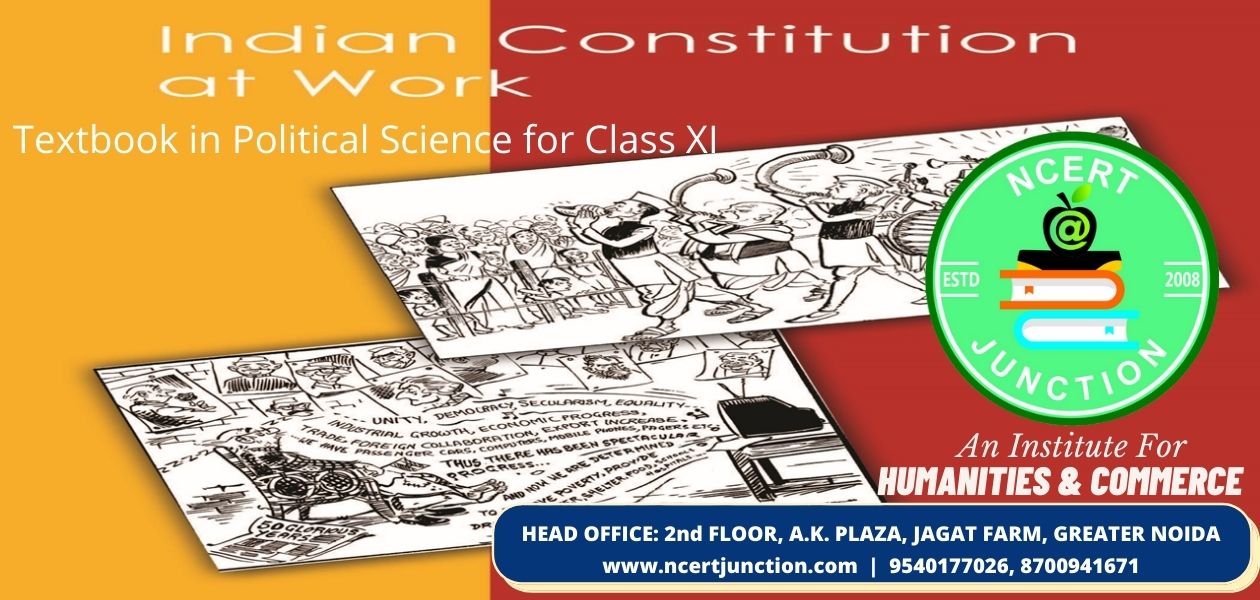 INDIAN CONSTITUTION AT WORK FOR CLASS 11th
COURSE DESCRIPTION
Dear Students, This course is designed for Class 11th students. But it is very important for those students who want preparation for civil services or any Government jobs. The concepts given in this book are even more important for every citizens.
Indian Constitution at work for class 11th, provides a wide range of concepts and advanced information regarding the Indian Constitution and comparison view with other constitutions. You have already studied the broad structure of the Indian government and some bits of the Constitution. But this book takes you to something different from what you have already studied.
After 10th, Now you have chosen Humanities or Art stream. In this stream, You will study Political science in next 2 years. But in class 11th book "Indian Constitution at work for class 11th",  you will study about the Formation & working of the Indian Constitution, important articles, How to study Indian Constitution, Various rights; specially about fundamental rights, Electoral system in India, Different bodies of the Government and their working, Provision of local government, and philosophy of Indian Constitution etc.
OBJECTIVES:
Understanding of some basic constitutional and political concepts through which we will be more aware about politics of India and the working of Government.
Enable students to understand the historical processes and the circumstances in which the Constitution was drafted.
Provide opportunity for students to become familiar with the diverse visions that guided the makers of the Indian Constitution.
Enable students to identify certain key features of the Constitution and compare these to other constitutions in the world.
Analyse the ways in which the provisions of the Constitution have worked in real political life.
SALIENT FEATURES OF COURSE:
INDIAN CONSTITUTION AT WORK FOR CLASS 11th has many features like-
Each Topic has been written and explained in accordance with the latest guideline issued by CBSE.
The Concepts have been systematically explained through the use of Diagrams, tables, and examples.
HOTS Questions with answers have been given at the end of each chapter to enhance the student's understanding, analytical ability, and interpretation.
A Quiz of Multiple Choices Questions (MCQ) with answers has been given at the end of Lecture.
Questions of NCERT TEXTBOOK also discussed with explanations.
VALUE-BASED Questions with answers have been given in the revision section.
Practical Problems have been a weightage of 20 marks in the examination. To have a Complete edge, a large number of comprehensive solved and unsolved practical problems have been discussed in our lectures.
Power Booster Section has been provided for the knowledge enrichment of the students.
This course consist also revision section in which we discuss: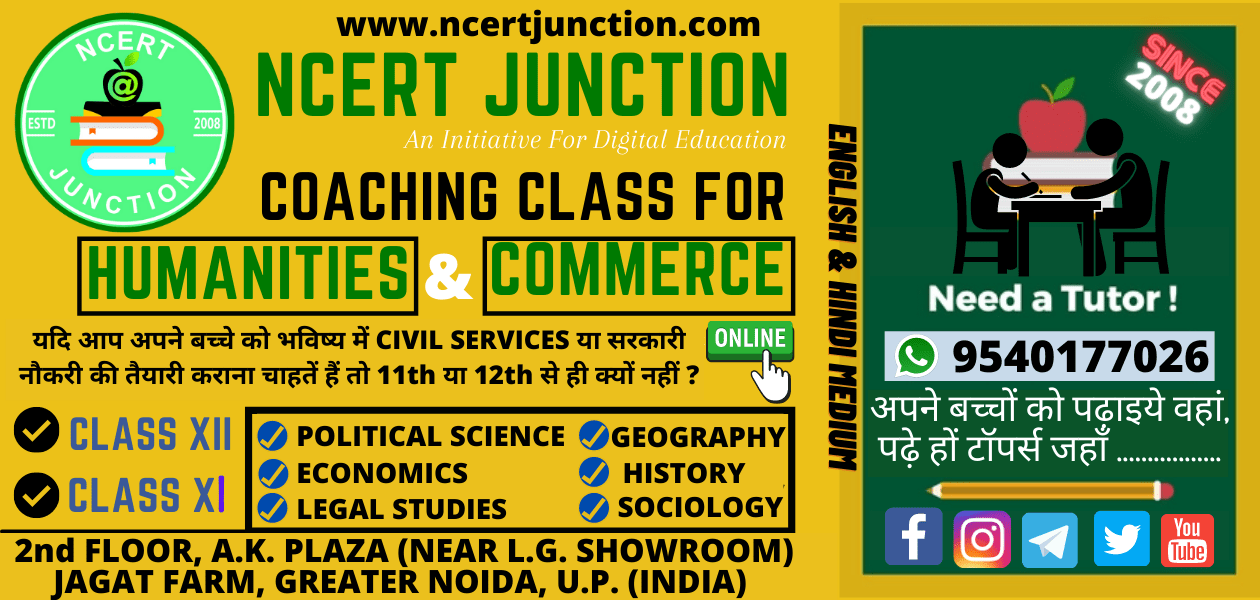 Other than Indian Constitution at work for class 11th, We also provide Online Tuition classes for class 12, 11th humanities, commerce, economics, political science, geography.
POLITICAL SCIENCE (028)
Class XI (2021-22)
Total Weightage: 100 Marks (Theory 80 + Project Work 20)
A. Theory Max Marks: 80
Time: 3 hrs.
Units
 
Periods: 220
Marks: 80
Part A: Indian Constitution at work
 
 
1
Constitution: Why and How, Philosophy of the Constitution, Constitution as a living document
26
10 + 6 = 16
2
Rights and Duties in the Indian Constitution
18
3
Election and Representation
11
8
4
The Executive
11
 
5
The legislature
11
8
6
The judiciary
11
 
7
Federalism
11
8
8
Local Governments
11
 
 
Total
110
40
Part B: Political Theory
 
 
9
Political Theory: An Introduction
10
8
10
Freedom  
11
11
Equality
11
8
12
Justice with special reference to Social Justice
12
13
Right
11
8
14
Citizenship
11
15
Nationalism
11
8
16
Secularism
11
17
Peace
11
8
18
Development
11
 
Total
110
 
B. Project Work: 20 Marks
Grand Total = 100 Marks
Call for Online/Offline tuitions for humanities and commerce: 9540177026
For registration please fill the form: Fix Demo
Since 2008, We NCERT JUNCTION providing Best offline Coaching Classes for Pol Science in Greater Noida. Now we have are serving Online Tuition For Humanities Class 11 in very interactive way. Political Science For Class 11th has two books. One is related to Indian Constitution at work and second is related to theories of political science.
Course Features
Lectures

0

Quizzes

0

Duration

75 hours

Skill level

All levels

Language

ENGLISH, HINDI

Students

73

Certificate

No

Assessments

Self
Chapter 1: INDIAN CONSTITUTION: WHY AND HOW?

Constitution: Why and How, The making of the Constitution, the Constituent Assembly.

Chapter 2: RIGHTS AND DUTIES IN THE INDIAN CONSTITUTION

The importance of Rights, Fundamental Rights in the Indian Constitution, Directive Principles of State Policy, Relationship between Fundamental Rights and and Directive Principles.

Chapter 3: ELECTION AND REPRESENTATION

Elections and Democracy, Election System in India, Reservation of Constituencies, Free and Fair Elections, Electoral Reforms.

Chapter 4: EXECUTIVE

Chapter 5: LEGISLATURE

Chapter 6: JUDICIARY

Chapter 7: FEDERALISM

Chapter 8: LOCAL GOVERNMENTS

Chapter 9: CONSTITUTION AS A LIVING DOCUMENT

Chapter 10: THE PHILOSOPHY OF THE CONSTITUTION