INDIAN ECONOMIC DEVELOPMENT CLASS 12
| | | |
| --- | --- | --- |
| Part B: Indian Economic Development | Total Marks – 40 | |
| Unit-6: Development Experience (1947-90) and Economic Reforms since 1991 | 12 | |
| Unit-7:Current Challenges facing Indian Economy | 22 | |
| Unit-8: Development Experience of India – A Comparison with Neighbors | 06 | |
INDIAN ECONOMIC DEVELOPMENT AFTER INDEPENDENCE
PART-'B' FOR CLASS 12th
This book is related to Indian Economics after 1947 & has 10 chapters (According to NCERT).
UNIT I : DEVELOPMENT POLICIES AND EXPERIENCE (1947-1990)
Chapter 1 INDIAN ECONOMY ON THE EVE OF INDEPENDENCE
Chapter 2 INDIAN ECONOMY 1950-1990
UNIT II : ECONOMIC REFORMS SINCE 1991
Chapter 3 LIBERALISATION, PRIVATISATION AND GLOBALISATION
UNIT III: CURRENT CHALLENGES FACING THE INDIAN ECONOMY
Chapter 4 POVERTY
Chapter 5 HUMAN CAPITAL FORMATION IN INDIA
Chapter 6 RURAL DEVELOPMENT
Chapter 7 EMPLOYMENT: GROWTH, INFORMALISATION AND OTHER ISSUES
Chapter 8 INFRASTRUCTURE
Chapter 9 ENVIRONMENT AND SUSTAINABLE DEVELOPMENT
UNIT IV : DEVELOPMENT EXPERIENCES OF INDIA : A COMPARISON WITH NEIGHBOURS
Chapter 10: COMPARATIVE DEVELOPMENT EXPERIENCES OF INDIA AND ITS NEIGHBOURS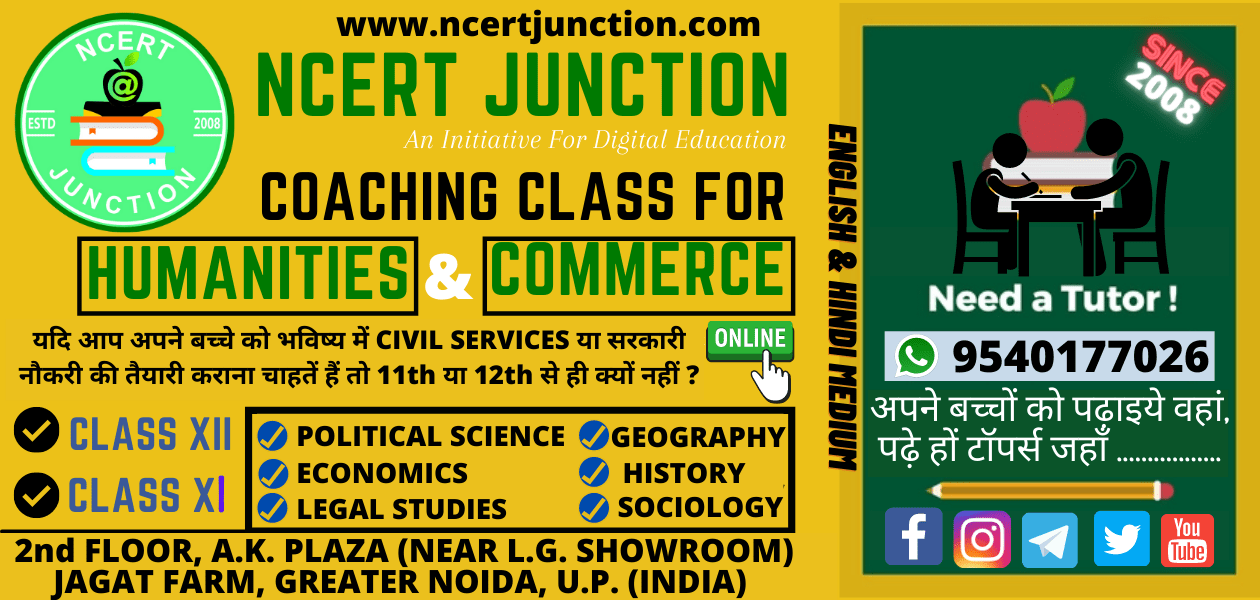 ENQUIRY Form to Fix a Demo for INDIAN ECONOMIC DEVELOPMENT Class 12 Or to fill ONLINE: CLICK HERE
For Demo/Start tuition classes with NCERT JUNCTION: Download this Registration Form, Fill & send WhatsApp: 9540177026Or E-mail: [email protected] Or Call: 9540177026 for any assistance. Thanks.
INDIAN ECONOMIC DEVELOPMENT Class 12, Call/WhatsApp: 9540177026
NCERT 12th Indian Economic Development CBSE book: Free Download in English
NCERT 12th Indian Economic Development CBSE book: Free Download in Hindi
CBSE 12th Economics Question Paper 2020: Free Download
Note: Join Coaching Classes: Economics For Class 12th in Greater Noida (Limited Offer to first 5 students only of every new batch)
Best Tuition Classes For Economics, Best Economics Coaching For Class 12, Best Coaching for Economics Near Me, Commerce Classes Greater Noida
——————————————————————————————
⇒⇒⇒⇒⇒ Follow us: ⇒⇒⇒⇒⇒
♥ Facebook: – https://www.facebook.com/ncertjunction/
♥ Skype: – https://join.skype.com/Y0n7PswqY6Q7
♥ Zoom: – https://us04web.zoom.us/j/2084819455?fbclid=IwAR2NrIvKhl2kS2XovRm1VxCiqQ-_h4yO3rplh2ya1icKAaXIWm16TNhhBb4#success
♥ Twitter: – https://twitter.com/Ncertj
♥ Linkedin: – https://www.linkedin.com/in/ncert-junction/
♥ Telegram: – https://t.me/NcertJunction
♥ Pinterest: – https://in.pinterest.com/junction0696/boards/
♥ Website: – http://ncertjunction.com
♥ Instagram: – https://www.instagram.com/ncertjunction/
♥ Youtube: – https://www.youtube.com/channel/UCzL2Gfk8bnHmkCe358gcAQg?view_as=subscriber
♥ WhatsApp पर +91 95401 77026 से चैट करें : https://api.whatsapp.com/send?phone=919540177026&text=I%27m%20interested%20in%20your%20course%20for:%20