FUNDAMENTALS OF PHYSICAL GEOGRAPHY FOR CLASS 11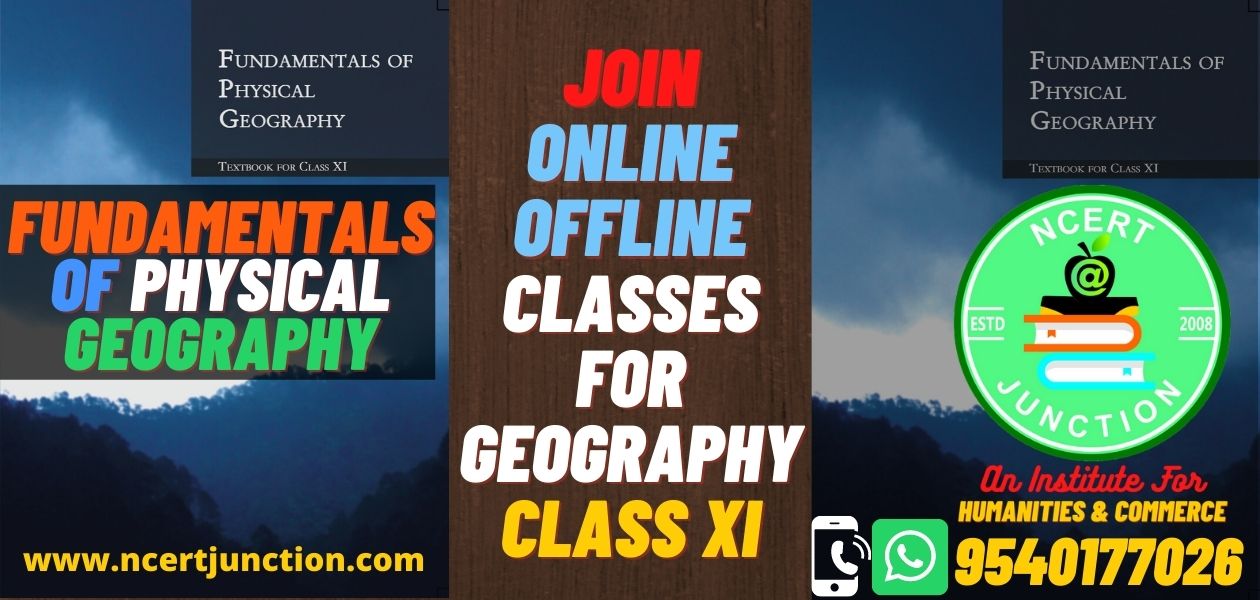 FUNDAMENTALS OF PHYSICAL GEOGRAPHY: CLASS 11th
COURSE DESCRIPTION
This subject provides a wide range of concepts and advanced information regarding the subject which includes all the questions provided in the CBSE Class 10, 9, 8, & 6th Geography Syllabus.
Geography concentrates on how universe, galaxy, star, planets evolve and origin of the earth also. In this subject Fundamentals of physical geography, we also study about earthquakes, Volcanoes, and various kinds of other concepts.
OBJECTIVE:
Understanding of some basic geographical concepts through which we will be more aware about earth and other planets.
SALIENT FEATURES OF COURSE:
Each Topic has been written and explained in accordance with the latest guideline issued by CBSE.
The Concepts have been systematically explained through the use of Diagrams, tables, and examples.
HOTS Questions with answers have been given at the end of each chapter to enhance the student's understanding, analytical ability, and interpretation.
A Quiz of Multiple Choices Questions (MCQ) with answers has been given at the end of Lecture.
Questions of NCERT TEXTBOOK also discussed with explanations.
VALUE-BASED Questions with answers have been given in the revision section.
Practical Problems have been a weightage of 30 marks in the examination. To have a Complete edge, a large number of comprehensive solved and unsolved practical problems have been discussed in our lectures.
Power Booster Section has been provided for the knowledge enrichment of the students.
This course consist also revision section in which we discuss:
What We will provide?
This course is specially designed for the CBSE students of class XI. In this course, We will be covering the complete syllabus For Fundamentals of Physical Geography For Class 11th from basics to advance.
Our Tuition classes provide several benefits to students:
Daily classes: Now we have less time and syllabus in Fundamentals of Physical Geography For Class 11th is broad. So we arrange classes for this subject on alternative days.
Individual class; one to one: For those students who are weak in subject or lacking the power to perform demanding tasks, we provide separate lectures. And for confidence building we arrange group classes.
Complete syllabus coverage: We cover all parts of the syllabus which is mention in 2021-22 session.
Topic wise Study Materials/Notes 📝: Our Study material of

Fundamentals of Physical Geography For Class 11th

 is unique, updated and maintained after researched by specialized teachers. This study material is easy to understand because language is simple and required graphs are maintained with topic wise. On the other hand we also maintain short notes of each chapter to revise quickly in short time.
Guessed/Test papers: We organize test series for Geography Class XI, so that students can understand their lacks and resolve them.
Any time doubt solve via WhatsApp: If you Join our Crash Course for Fundamentals of Physical Geography For Class 11th, we provide personal assistance and doubt support at any time.
DETAILED SYLLABUS: FUNDAMENTALS OF PHYSICAL GEOGRAPHY FOR CLASS 11th
| | | |
| --- | --- | --- |
| Units | Topic or Chapter | Marks |
| Part A  | Fundamentals of Physical Geography | 35 |
| Unit-1 | Geography as a discipline | |
| Unit-2 | The Earth | |
| Unit-3 | Landforms | |
| Unit-4 | Climate | |
| Unit-5 | Water (Oceans) – OTBA | |
| Unit-6 | Life on the Earth | |
| | Map and Diagram | 5 |
| | Total | 40 |
Part A: Fundamentals of Physical Geography
Unit-1: Geography as a Discipline
Geography as an integrating discipline, as a science of spatial attributes.
Branches of Geography; Physical Geography and Human Geography.
Scope and Career Options
Unit-2: The Earth
Origin and evolution of the earth; Interior of the earth.
Wegener's continental drift theory and plate tectonics.
Earthquakes and volcanoes: causes, types and effects.
Unit-3: Landforms
Rocks: major types of rocks and their characteristics.
Landforms and their evolution.
Geomorphic processes: weathering, mass wasting, erosion and deposition; soil-formation.
Unit 4: Climate
Atmosphere- composition and structure; elements of weather and climate.
Insolation-angle of incidence and distribution; heat budget of the earth-heating and cooling of atmosphere (conduction, convection, terrestrial radiation and advection); temperature- factors controlling temperature; distribution of temperature-horizontal and vertical; inversion of temperature.
Pressure-pressure belts; winds-planetary, seasonal and local; air masses and fronts; tropical and extratropical cyclones.
Precipitation-evaporation; condensation-dew, frost, fog, mist and cloud; rainfall-types and world distribution.
World climates-classification (Koeppen and Thornthwaite), Global warming and climatic changes.
Climate and Global Concerns.
Unit 5: Hydrosphere
Basics of Oceanography
Oceans – distribution of temperature and salinity.
Movements of ocean water-waves, tides and currents; submarine reliefs.
Ocean resources and pollution.
Unit 6: Biosphere
Biosphere – importance of plants and other organisms; biodiversity and conservation; ecosystem and ecological balance.
Map work on identification of features based on 1 to 6 units on the outline/Physical/Political map of the world.
For Detailed study about pattern declared by CBSE BOARD: Click Here
Our Charges for Serve you better:
| | | |
| --- | --- | --- |
| SUBJECT | ONLINE | OFFLINE |
| FUNDAMENTALS OF PHYSICAL GEOGRAPHY | ₹ 1,000 | ₹ 1,200 |
| INDIA: PHYSICAL GEOGRAPHY | ₹ 1,000 | ₹ 1,200 |
| BOTH BOOKS | ₹ 1,800 | ₹ 2,200 |
NCERT 11th FUNDAMENTALS OF PHYSICAL GEOGRAPHY (Eng): Free Download
NCERT 11th INDIA PHYSICAL ENVIRONMENT Textbook (Eng): Free Download
NCERT 11th Bhutiq Bhugol ke Mul Sidhant: Free Download
NCERT 11th Bhart Bhautik Paryabaran: Free Download
Note: Join our Course of Geography for class 11th in Greater Noida (Limited Offer to first 5 students only of every new batch)
Call for Online/Offline tuitions for humanities and commerce: 9540177026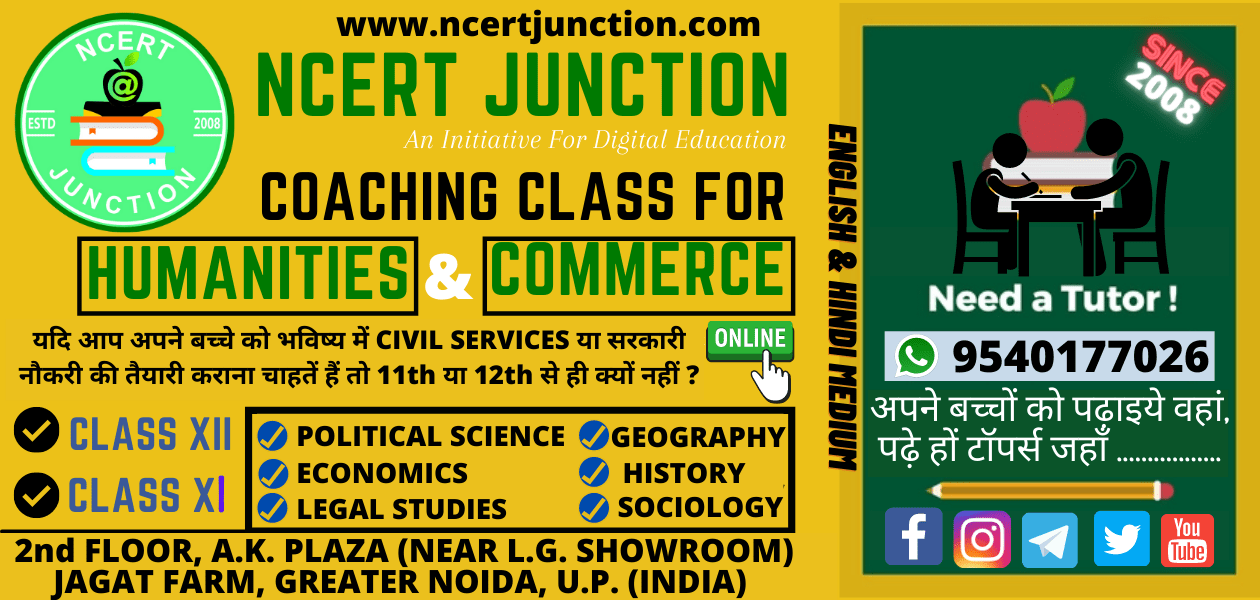 Course Features
Lectures

0

Quizzes

0

Skill level

All levels

Language

ENGLISH, HINDI

Students

464

Certificate

No

Assessments

Self
Chapter 1: Geography as a Discipline

Chapter 2: The Origin and Evolution of the Earth

Chapter 3: Interior of the Earth

Chapter 4: Distribution of Oceans and Continents

Chapter 5: Minerals and Rocks

Chapter 6: Geomorphic Processes

Chapter 7: Landforms and their Evolution

Chapter 8: Composition and Structure of Atmosphere

Chapter 9: Solar Radiation, Heat Balance and Temperature

Chapter 10: Atmospheric Circulation and Weather Systems

Chapter 11: Water in the Atmosphere

Chapter 12: World Climate and Climate Change

Chapter 13: Water (Oceans)

Chapter 14: Movements of Ocean Water

Chapter 15: Life on the Earth