COURSE DESCRIPTION
Statistics For Economics Class 11, provides a wide range of concepts and advanced information regarding the subject which includes all the questions provided in the CBSE Class 11 Economics Syllabus.
This course is designed after keeping pace with the changes introduced by CBSE. It is based on the latest syllabi prescribed by CBSE for the year 2021-2022 and onwards. The course also contains Multiple-Choice, Value-Based, Evaluation, and Multi-Disciplinary Questions as introduced by CBSE.
In this course, the learners are expected to acquire skills in collection, organisation and presentation of quantitative and qualitative information pertaining to various simple economic aspects systematically. It also intends to provide some basic statistical tools to analyse, and interpret any economic information and draw appropriate inferences. In
this process, the learners are also expected to understand the behaviour of various economic data.
OBJECTIVES:
Understanding of some basic economic concepts and development of economic reasoning which the learners can apply in their day-to-day life as citizens, workers, and consumers.
Realization of learners' role in nation-building and sensitivity to the economic issues that the nation is facing today.
Equipment with basic tools of economics and statistics to analyze economic issues. This is pertinent for even those who may not pursue this course beyond the senior secondary stage.
Development of understanding that there can be more than one view on any economic issue and necessary skills to argue logically with reasoning.
Why This Course?
Due to Covid-19 pandemic, schools couldn't open in 2020 – 2021 & 2021-2022 session.
This year many students are facing problems in Commerce subjects especially in Statistics For Economics Class 11.
Students have less time to complete maximum syllabus.
If any student couldn't study whole year or facing less confidence in Statistics For Economics Class 11th, then within remaining period we can complete the entire syllabus.
To make students feel confident in Statistics For Economics Class 11.
To help students with real-life applications of Statistics.
To help students understand each and every topic deeply.
To help students in scoring the maximum score.
To Join Crash Course – Statistics For Economics Class 11 Call/WhatsApp us at: 9540177026
To Fix a DEMO – Statistics For Economics Class 11 : CLICK HERE
SALIENT FEATURES OF COURSE:
Each Topic has been written and explained in accordance with the latest guideline issued by CBSE.
The Concepts have been systematically explained through the use of Diagrams, tables, and examples.
HOTS Questions with answers have been given at the end of each chapter to enhance the student's understanding, analytical ability, and interpretation.
A Quiz of Multiple Choices Questions (MCQ) with answers has been given at the end of Lecture.
Questions of NCERT TEXTBOOK also discussed with explanations.
VALUE-BASED Questions with answers have been given in the revision section.
Practical Problems have been a weightage of 20 to 30 marks in the board examination. To have a Complete edge, a large number of comprehensive solved and unsolved practical problems have been discussed in our lectures.
Power Booster Section has been provided for the knowledge enrichment of the students.
This course consist also revision section in which we discuss:
Last year's CBSE Question Papers Of Different Schools.
List of important Questions.
Value-based, Evaluation, and Multi-Disciplinary Questions.
Latest CBSE Sample Paper with Marking Scheme.
DETAILED SYLLABUS: ECONOMICS CLASS 11th
CLASS – XI (2021-22)           Theory: 80 Marks             Duration:3 Hours                  Project: 20 Marks
Units
Marks
Periods
Part A
Statistics for Economics
Introduction
13
07
Collection, Organisation, and Presentation of Data
27
Statistical Tools and Interpretation
27
66
40
100
Part B
Introductory Microeconomics
Introduction
4
8
Consumer's Equilibrium and Demand
13
32
Producer Behaviour and Supply
13
32
Forms of Market and Price Determination under perfect competition with simple applications
10
28
40
100
Part C
Project Work
20
20
DETAILED SYLLABUS FOR

STATISTICS FOR ECONOMICS CLASS 11

 CBSE :
Part A: Statistics for Economics Class 11th:
Unit 1: Introduction 
What is Economics?
Meaning, scope, functions and importance of statistics in Economics.
Unit 2: Collection, Organisation and Presentation of data 
Collection of data – sources of data – primary and secondary; how basic data is collected with concepts of Sampling; methods of collecting data; some important sources of secondary data: Census of India and National Sample Survey Organisation.
Organisation of Data: Meaning and types of variables; Frequency Distribution.
Presentation of Data: Tabular Presentation and Diagrammatic Presentation of Data: (i) Geometric forms (bar diagrams and pie diagrams), (ii) Frequency diagrams (histogram, polygon and Ogive) and (iii) Arithmetic line graphs (time series graph).
Unit 3: Statistical Tools and Interpretation 
For all the numerical problems and solutions, the appropriate economic interpretation may be attempted. This means, the students need to solve the problems and provide interpretation for the results derived.
Measures of Central Tendency- Arithmatic mean, median and mode.
Measures of Dispersion – absolute dispersion (range, quartile deviation, mean deviation and standard deviation); relative dispersion (co-efficient of range, co-efficient of quartile-deviation, co-efficient of mean deviation, co-efficient of variation)
Correlation – meaning and properties, scatter diagram; Measures of correlation – Karl Pearson's method (two variables ungrouped data) Spearman's rank correlation.
Introduction to Index Numbers – meaning, types – wholesale price index, consumer price index and index of industrial production, uses of index numbers; Inflation and index numbers.
What We will provide?
This course is specially designed for the CBSE students of class XI. In this course, We will be covering the complete syllabus of two books of  STATISTICS FOR ECONOMICS class 11 from basics to advance.
Our Tuition classes provide several benefits to students:
Daily classes: Now we have less time and syllabus in Statistics For Economics Class 11th is broad. So we arrange classes for this subject on alternative bases.
Individual class; one to one: For those students who are weak in subject or lacking the power to perform demanding tasks, we provide separate lectures. And for confidence building we arrange group classes.
Complete syllabus coverage: We cover all parts of the syllabus which is mention in 2021-22 session.
Topic wise Study Materials/Notes 📝: Our Study material of Micro Economics For Class 11 is unique, updated and maintained after researched by specialized teachers. This study material is easy to understand because language is simple and required graphs are maintained with topic wise. On the other hand we also maintain short notes of each chapter to revise quickly in short time.
Guessed/Test papers: We organize test series of Micro Economics For Class 11, so that students can understand their lacks and resolve them. Definitely in Class 11th every school has their choice for asking syllabus but all schools have to follow standard what CBSE circulates. That's why since 2011 we are providing toppers in Economics from Greater Noida location.
Any time doubt solve via WhatsApp: If you Join our Course of STATISTICS FOR ECONOMICS Class 11, we provide personal assistance and doubt support at any time.
About Teacher: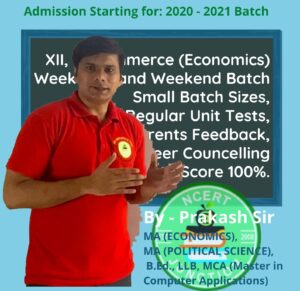 Name: Prem Prakash
Education: MA (Economics & Political Science), MCA, B.ed.
Experience: 10+ Years with CBSE affiliated schools.
Our Charges for Serve you better:
| | | |
| --- | --- | --- |
| SUBJECT | ONLINE | OFFLINE |
| MICRO ECONOMICS | ₹ 1,000 | ₹ 1,200 |
| STATISTICS FOR ECONOMICS | ₹ 1,000 | ₹ 1,200 |
| BOTH BOOKS | ₹ 1,800 | ₹ 2,200 |
Free
Download NCERT

Books: Economics For Class 11
NCERT 11th STATISTICS FOR ECONOMICS Textbook (Eng): Free Download
Note: Since 2019 Micro Economics shifted from Class 12th to 11th by CBSE]
NCERT 11th MICRO ECONOMICS Textbook (Eng): Free Download
NCERT 11th व्यष्टि अर्थशास्त्र Textbook (HINDI): Free Download
Since 2008, we are serving tuition classes for Statistics for Class XI. We are providing Best Coaching For Statistics CBSE in Online & Offline mode. Because we, NCERT JUNCTION have Best Tutor For Statistics in Greater Noida so if you are searching Tuition Classes For Statistics Near Me, You're most welcome.
Note: Join our Course For STATISTICS FOR ECONOMICS Class 11th in Greater Noida (Limited Offer to first 5 students only of every new batch)
Call for Online/Offline tuitions for humanities and commerce: 9540177026