Join Free Crash Course For Economics Class 12
As We know in class 12th, CBSE board consider two books- (i) Macro Economics, (ii) Indian Economic Development. Each book, has 40 marks weightage.
Time Allowed: 3 Hours, Maximum Marks: 80 & 15 minute allotted to read the paper. The question paper divided in two sections- A for Macro Economics and B would be for Indian Economic Development. There would be 34 questions in all.
Why Crash Course?
Due to Covid-19 pandemic, schools couldn't open in 2020 – 2021 session.
This year many students are facing problems in economics subject especially.
Students have less time to complete maximum syllabus.
If any student couldn't study whole year or facing less confidence in Economics subject of class 12th standard then within remaining period we can complete the entire syllabus.
To make students feel confident in economics.
To help students with real-life applications of economics.
To help students understand each and every topic deeply.
To help students in scoring the maximum score.
Join Free Crash Course For Economics Class 12 WhatsApp us: 9540177026
To Join Premium Crash Course For Economics Class 12: Call and register: 9540177026
What We will provide?
This course is specially designed for the CBSE students of class XII. In this course, I  will be covering the complete syllabus of two books for class 12 ECONOMICS from basics to advance.
Our Tuition classes provide several benefits to students:
Daily classes: Now we have less time and syllabus in economics is broad. So we arrange classes for Economics on daily bases, 1st book at one day and 2nd book at next day.
Individual class; one to one: For those students who are weak in subject or lacking the power to perform demanding tasks, we provide separate lectures. And for confidence building we arrange group classes.
Complete syllabus coverage: We cover all parts of the syllabus which is mention in 2020-21 session after delete 30% part. Part A: Introductory Macroeconomics consist 5 units: Unit 1: National Income and Related Aggregates. Unit 2: Money and Banking. Unit 3: Determination of Income and Employment. Unit 4: Government Budget and the Economy. Unit 5: Balance of Payments. And Part B: Indian Economic Development consist 3 units in syllabus: Unit 1: Development Experience (1947-90) and Economic Reforms since 1991. Unit 2: Current challenges facing Indian Economy. Unit 3: Development Experience of India. Another Part we also discuss about Project in Economics which have 20 parks weightage.
Topic wise Study Materials/Notes 📝: Our Study material for Economics Class 12 is unique, updated and maintained after researched by economists. This study material is easy to understand because language is simple and required graphs are maintained with topic wise. On the other hand we also maintain short notes of each chapter to revise quickly in short time.
Guessed/Test papers: We organize test series for economics, so that students can understand their lacks and resolve them. Every year more than 60 to 70 % topics we see directly in CBSE board question paper. That's why since 2011 we are providing toppers in Economics in Greater Noida location.
Any time doubt solve via WhatsApp: If you Join our Crash Course For Economics Class 12, we provide personal assistance and doubt support at any time.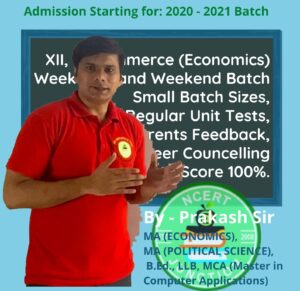 About Teacher:
Name: Prem Prakash
Education: MA (Economics & Political Science), MCA, B.ed.
Experience: 9 Years with CBSE affiliated schools.
Our Charges for Serve you better:
| | | |
| --- | --- | --- |
| SUBJECT | ONLINE | OFFLINE |
| INDIAN ECONOMIC DEVELOPMENT (IED) | ₹ 4,000 | ₹ 5,000 |
| MACRO ECONOMICS (ME) | ₹ 5,000 | ₹ 6,000 |
| IED+ME | ₹ 8,000 | ₹ 9,000 |
NCERT 12th Indian Economic Development CBSE book: Free Download in English
NCERT 12th Indian Economic Development CBSE book: Free Download in Hindi
CBSE 12th Economics Question Paper 2020: Free Download
Note: Join Free Crash Course For Economics Class 12th in Greater Noida (Limited Offer to first 5 students only of every new batch)
——————————————————————————————
⇒⇒⇒⇒⇒ Follow us: ⇒⇒⇒⇒⇒
♥ Facebook: – https://www.facebook.com/ncertjunction/
♥ Skype: – https://join.skype.com/Y0n7PswqY6Q7
♥ Zoom: – https://us04web.zoom.us/j/2084819455?fbclid=IwAR2NrIvKhl2kS2XovRm1VxCiqQ-_h4yO3rplh2ya1icKAaXIWm16TNhhBb4#success
♥ Twitter: – https://twitter.com/Ncertj
♥ Linkedin: – https://www.linkedin.com/in/ncert-junction/
♥ Telegram: – https://t.me/NcertJunction
♥ Pinterest: – https://in.pinterest.com/junction0696/boards/
♥ Website: – http://ncertjunction.com
♥ Instagram: – https://www.instagram.com/ncertjunction/
♥ Youtube: – https://www.youtube.com/channel/UCzL2Gfk8bnHmkCe358gcAQg?view_as=subscriber
♥ WhatsApp पर +91 95401 77026 से चैट करें : https://api.whatsapp.com/send?phone=919540177026&text=I%27m%20interested%20in%20your%20course%20for%20sale&source=&data=&app_absent