Chapter 1 The Cold War Era

10

This chapter provides a backdrop to the entire book. The end of the Cold War is usually seen as the beginning of the contemporary era in world politics which is the subject matter of this book. In this Chapter We will Discus about: 1. End of 2nd world war. 2. Outcomes of second World War. 3. Cold War. 4. Dominance of two superpowers USA & USSR. 5. Non Aligned Movement (NAM). 6. NAM and India.

Chapter 2 The End of Bipolarity

8

In this Chapter-2: The End of Bipolarity, We will study about (1): Greatest symbol of Cold War (The Berlin Wall) Demolished in 1989, (2): collapse of the 'second world' and the end of the Cold War. (3): Meaning, causes and the consequences of the disintegration of the 'second world'. (4) What happened after the collapse of communist regimes and how India relates to these countries now.

Chapter 3 US Hegemony in World Politics

0

No items in this section

Chapter 4 Alternative Centres of Power

0

No items in this section

Chapter 5 Contemporary South Asia

0

No items in this section

Chapter 6 International Organisations

0

No items in this section

Chapter 7 Security in the Contemporary World

0

No items in this section

Chapter 8 Environment and Natural Resources

0

No items in this section

Chapter 9 Globalisation

0

No items in this section
EMERGENCE OF TWO POWER BLOCS AFTER 2nd WORLD WAR
EMERGENCE OF TWO POWER BLOCS AFTER 2nd WORLD WAR
The two superpowers were keen on expanding their spheres of influence in different parts of the world. Now the world sharply divided between the two alliance systems (Western & Eastern). This division started from Europe.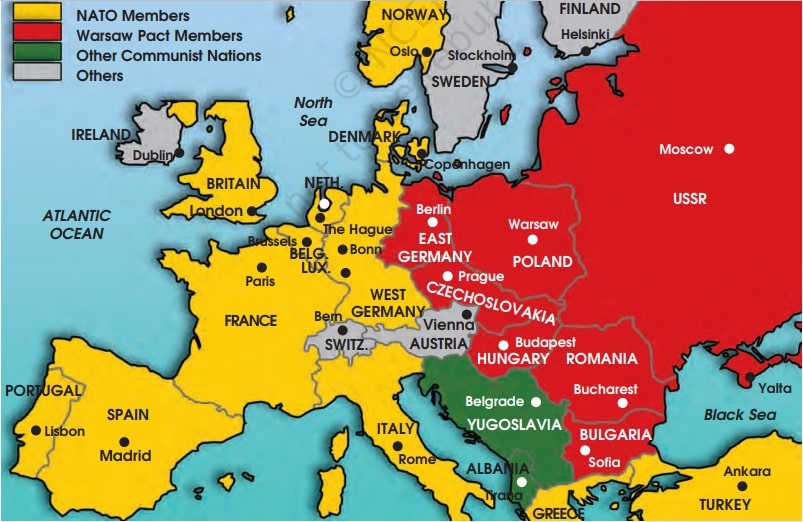 -> Small states linked themselves because they got the promise of protection weapons, and economic aid against their local rivals.
The North Atlantic Treaty Organisation (NATO) : Formulated in April, 1949 by USA with western countries of Europe. Purpose was to Armed security.
WARSAW Pact: Formulated in 1955 by Soviet Union with Eastern Countries of Europe. Purpose was to counter NATO forces.
Southeast Asian Treaty Organisation (SEATO) & Central Treaty Organisation (CENTO): Formulated by USA.